Content count

1,021

Joined

Last visited

Days Won

10
Community Reputation
179
Excellent
42 Followers
About minachan16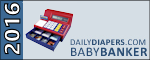 Rank

Sweetie Pie Extraordinaire


Birthday

01/17/1987
Previous Fields
Diapers
I Am a...
Age Play Age
And then you pooped in your pants and everyone applauded.

Oh my gosh, this is literally a dream come true! As an ABDL that plays in the toddler age range, I couldn't be happier about this! Finally, ABDL pull-ups! Hopefully they are a big hit and inspire ABU, Rearz, and other manufacturers to take notice and enter into the ABDL pull-ups market too! P.S. I've already made my order. No way am I letting these get sold out on me

First off, I just want to say what a wonderful partner you are to your boyfriend that you are not only supportive but willing to engage and understand this side of him. That being said, if he is having a panic attack at the thought of you seeing him in diapers, then you need to take this easy. Be encouraging of him but let him know that you're ready whenever he is. Maybe he never brings it up again, maybe he tries again to do this with you next weekend... just take it slow and let him set the pace if you're ready but he's not.

If it's the booth I'm thinking of, you should avoid that guy. He's been known to out people he doesn't like. He's been blacklisted from several of the various groups in the Twin Cities area for this reason.

"Little", definitely. The more times I regress, the more it becomes apparent that I am not a "fixed age". I still identify my regressed age as three, but sometimes I want to be even younger and then (to a point that suprises me) sometimes I want to be closer to five and wear my big girl undies while still engaging in all my favorite preschool shows and games and toys I suppose that's a blessing of being a little. You don't have to be a fixed anything or anyone. You can be free to be the person you are in that moment.

It looks like the interview was done with the intention of making the first half look better, but I think it made it look worse. Gotta have those "look how weird this person is" reactions for the clicks, even when you are editing having talked with the subject of your video and realizing they are a human being too.

If they made pull-ups in my size with the Sofia the First designs on the Huggies brand, I would buy them by the caseload.

Completely outlandish plot aside, you did really well with the core characters. I could totally hear Bob and Linda's voices reading those lines, as well as Teddy's. The kids were a bit shaky though IMO, and Pesto wasn't a complete douchecanoe which felt odd reading. Everyone's interactions though were priceless. The competition scene and its utter cringe factor was classic Bob's Burgers humor. Very, VERY well done fanfic!

On Paypal, it shows as "Ember Larimar".

Two of the files ARE free ("Sleep Like a Baby" and "Forever Young") so try those to see if you want to buy the ones that cost money

Right off the bat, I think you need to post pictures of the nursery. Without any pictures, nobody has any idea what to expect, and I doubt anybody will show any interest without knowing what the nursery looks like.

Hello, all you lovely people! Recently, one of my ABDL sisters brought to my attention a site for ABDL hypnosis and I wanted to share it with you. The site is called "My Little Lullaby" and it is a site where you can buy lots of different trance recordings and even order custom tracks. The tracks follow the same kind of suggestive messages you find in meditation recordings and the like and are meant to encourage ABDL behaviors you would like to have more often. I have bought the two free ones, "Sleep Like a Baby" and "Forever Young" and also purchased the "Diaper Wetting" one to see if it would help me with the mental block I often have when I need to go potty during my little time. I am very pleased to report that they both worked like a charm! The "Sleep Like a Baby" one had me down for the count like magic, and I woke up feeling very little. I was so impressed that I tried the "Diaper Wetting" one right after waking up, as I had to go potty and even though I tried lying in bed it wasn't working. This is pretty common for me, as I need to be upright to actually pee. It annoys me in little space because it just doesn't feel right to me. So I listened to the diaper wetting track and after it was over, still lying down, I relaxed and was able to wet myself right in my bed! I was ecstatic! I'll be listening to this track every time I have little space with the hopes that soon I will just be able to wet myself regularly into my diapers! The one selling these tracks, Ember, has the softest sweetest voice, and each track comes with boy and girl variants so you are being directly addressed by the gender you identify with as a little in any circumstance! I cannot recommend her enough. After being burnt so much in the past on piss-poor hypnosis tracks, here's one that really works! If you're looking for good hypnosis files, please check the site out! http://mylittlelullaby.com/

I agree with Elfy. Don't write what I lovingly call "fapfiction" and skimp on the details, and don't get overly graphic in a story with a narrative and characters and meant for a more general readership when it's more in your story's interest to keep the plot moving.

Ew, no. Not that there's anything wrong with people who do like the smell, but I much prefer the "clean baby" smell to the "wet/stinky baby" smell. Most times I need a diaper change, I'll ask daddy for one mostly because I don't like the way I smell in one. If it wasn't for the smell, I'd probably flood my pampers to the point they leaked if someone didn't stop me first

I don't think the storefronts are a good judge of the size of the community. We are a kink, and kinks are niche markets. The fact that so many diaper boutique sites and ABDL etsy shops have set up camp on the internet means that more and more people want in on the pie because they have seen how much money we tend to spend on our kink. I don't think it will last though. Like BareBum Diapers being absorbed by ABU, we are sitting on a bubble. What isn't absorbed by bigger groups like ABU and Rearz, or shifts business models (like Tykables switching its focus to its clothing range), will inevitably disappear as supply outweighs demand. We are a bigger community than we used to be, but we are not big enough to support all the new companies sprouting up like weeds.