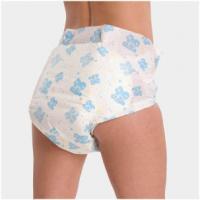 About This Club
If you wear diapers for the sexual part and want someone to share the experience with, this is the club for you!
---
What's new in this club

HumpDiaper

joined the club

lilwetboy

joined the club

darkdream

joined the club

Lyle-Lebeau

joined the club

Diapersmmm

joined the club

Jessi_foo-foo

joined the club

terrynappiedtoo

joined the club

sissybabyclaire

joined the club

Wetting myself, the wetter I get the more excited I feel, rubbing and teasing myself with my vibrator, I also like to watch others wet their diapers.☺️

piglet01

joined the club

Shugo Rosario

joined the club

babypants257

joined the club

I have been, since I can remember, been turned on by Mostly All the Smells associated with Diapers(wet and or messy), Plastic pants and Bedwetting..I'd like to share and let Any others do the same, Here..I personally have some Very soaking Wet experiences with both..Anyone ?

pcdeezboy

joined the club

LostBlue

joined the club

evan

joined the club

omo53

joined the club

Cumphie

joined the club

DLTGirl

joined the club

Kinky_Wheels25

joined the club

Kjjones2

joined the club

Diapdrkboy

joined the club

Staticaster

joined the club

bradcamp7

joined the club

YES! I love wearing and wetting in front of people without them knowing. But really I keep fantasizing about video chatting with another DL. I fantasize about meeting up with another DL. I am not always so brave - or free - but wetting with someone who is doing the same would be supper hot. I'm in the minneapolis / st paul area.

Hiya Everyone! I was born male but have identified female for as long as I remember. I had an accident at my girl cousin's house when I was 4, came home in a pair of her panties that my mom, thankfully, kept in rotation in my underwear drawer. I would love to share my joy of wetting via video chat - I use kik because it's easy - I just want to be able to wet and say outloud ho much I love wetting along with someone who feels the same . Sissy in a diaper is an approximate description. I wear girl's goodnites and dress up when I have private time. It is very sexual for me, but I would be almost as happy - lol - to just wet with some nice person. PM is always open - feel free to message me if I'm not online - and if you'd like to video chat I'll just about cum thinking about it! I'm fluid and open to anyone who shares my passion for wetting.

I like putting on a thick rearz diaper I have and go out to a casino late at night sitting and playing and never have to get up to go potty! I always look around and hoping someone likes them as well as I do. Strike up a conversation and end up in a room at the casino? a pocket full of money and a hand full of whatever you desire? I always have a bag in the car with toys, didees, onesies, and a change of clothes of course

Wet_Night

joined the club

lebo3162

joined the club

Faktor

joined the club

Ste90lancs

joined the club

For me when I make a nice big mess sometimes I like to keep the shape and continuity for a couple minutes, and appreciate it. Then destroy it once I shit down and plaster it to my butt. Then I'll kick back and relax, try to carry on like nothing happened until I start to get really horny and grab the bottle of lotion, knowing full well how naughty I am for what I did. Sent from my iPhone using Tapatalk

I enjoy my diaper the moment I make a solid mess and the some soft comes out at the end and you feel the rush of air and the blood flowing at an alarming pace, and your knees feel weak, and you get the first orgasm and have a few step to get there. and when you sit down and make that mess so much messier and try to hit every bump on the drive home. A bit intense, but that's me .. Hugs

bedwetter7

joined the club

MultifacetedBen

joined the club

brumas94

joined the club

Halsey

joined the club

smoothg

joined the club

Lilschoolboy

joined the club

Lonely

joined the club

RP_Baby_Mikey

joined the club

secret_life

joined the club

sissybabyjames

joined the club

WhiteBoy18

joined the club

I don't usually put a diaper on until I feel the need to poop, & hopefully pee as well, building up. I love opening them out & diapering myself, doing my best to make it a really neat snug fit...hitching them up further & adjusting the tabs tighter...looking at myself wearing in the mirror & feeling the sense of anticipation & heart racing excitement over what I'm going to do in it after a while.. I like to hang on till I'm bursting & can hopefully feel the discomfort of a full bladder & a turtle head trying to force its way out. But most of all I love it after I've filled them with as much poo & pee as I can manage...so I'm conscious of the huge weight & mass of my diaper & contents hanging down & packing tightly around me.as I move around eventually giving me the most intense hands free orgasm.

Tyler007

joined the club

wolfspain

joined the club

2b_or_not_2b

joined the club

On days where I have nothing to do; a couple hours of a wet messy diaper alone is so relaxing and comforting. Or when I'm spending time with my gf occasionally she'll put me in a diaper and we'll watch movies and cuddle. Sent from my iPhone using Tapatalk

cbarnes25

joined the club

LeeBaby

joined the club

babyboi01

joined the club

warmembrace77

joined the club

tbdlberks

joined the club

Rhiki

joined the club

wannatrydiapers

joined the club

littlelovely1

joined the club

In the middle of the night on weekends are best and just let go and stay warm feeling till morning, And thinking about what a great feeling and being a naughty lil boy

I guess I can say diapers turned me on from the very young age of twelve. I would get off the bus and stop in front of my house and make like i am checking the mail box and totally soak my diaper under my panties, and then mess my diaper as my knees got weak. I would go to the back of my house and climb up into the tree house and go inside and sit and squish it around. Relax in a messy diaper for a good half hour then go inside and clean up before my parents came home from work.. Those were the good innocent years (lol). Now so many years later it is almost the same thing but now I have grown older and can hold a good BM for two days and drive with my diaper full, it's even more fun.

Evelyn Dellcerro

joined the club

ShadeOfAce

joined the club

OH. You are a very good little girl when you do that! Sit in your diaper until I change you. But I think I am going to be playing with you till you get all nice and dirty. Than I thought I would just lay down beside you and play together

I enjoy my diapers when I have diaper cream on before I soak it senseless and make a solid BM right around back and sit in it like a bad boy.

I really agree with you. I would love to have a female who would allow me to put her in a diaper and plastic pants along with a short skirt that would play peekaboo with her diaper. Then I would like to take her out shopping, dinner, movie anywhere just so she would have to be so careful not to do anything to allow her to show off her diaper and sexy plastic pants. Any takers out there contact me

Being able to go around in front of my fiance in just a diaper around the house. When she does a random diaper check, and tells me it time to change my diaper.

I feel the same way, when my diaper is soaked I cant concentrate on anything and just want to cum. The smell of a wet diaper gets me so hot, and the feel makes me so horny.

I like them the most when wearing a onesie ans sissy panties with the AWSOCUTE brand diaper! Would like to meet others in my area for fun and play

I love wearing a diaper that is dry under the panties l have on now and hope that someone who has similar likes to approach me and start a wonderful friendship between us and playing when ever we can! I'd love to have parties for all of us to get together and be more open with each other with things we'd like to do and not be judged. That'd be fun to meet up with everyone in a place for like 2-3 nights in the spring or summer . It's just finding the one location to chat or talk more about diaper play and have fun

i'm a bi abdl. I have been a dl for about 14 years and have recently been exploring the ab side of things. I enjoy wearing and the feeling of being in a wet diaper. Its a turn on for me. seeking playmates near me and maybe something long term in the future.

I really get aroused by plastic pants! I mean really! My ideal situation would be to have a female partner who tease me wearing a diaper and plastic pants under a short skirt and let me se and feel them. I guarantee we would GET IT ON!!!

1

Hi Believe it or not but everytime I pee in my jelly diapers I get a tickling feeling that goes through my entire body. These feelings are very similar to having orgasms without ejaculations and they make me crazy aroused. I can get the same feelings when I sit on a swollen jellydiaper or swollen boosterpads and sometimes you can even notice I am unconcentrated and you can´t talk to me for a while but if you notice any signs on me about this please don´t blame me for it because I can´t help I get those attacks. I can´t explain why I feel this way but I suspect it´s something with my erotic zones to do. I have big broad buttocks and when anything touch them I get those attacks.